Will Windows 10 prove a winner for Microsoft?
By Leo Kelion Technology desk editor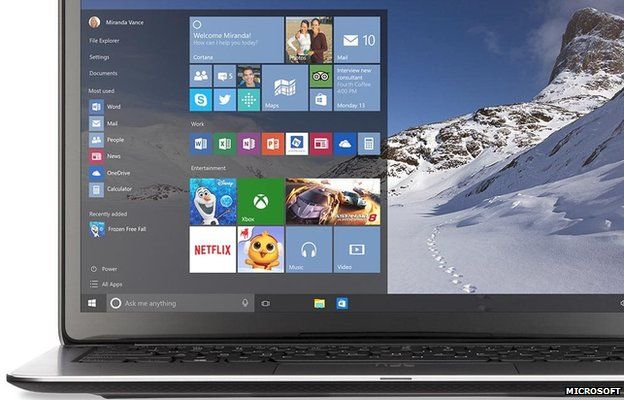 The world's most used operating system has made it into double figures.
Windows 10 is destined to change the way millions of us interact with our computers and gives Microsoft's chief executive, Satya Nadella, the opportunity to steer the company in a new direction.
He describes the OS as "Windows as a Service", which means he plans to release improvements as they become available, via the internet, rather than working towards another "big bang" upgrade in a few years.
Versions of the software will also be released for smartphones - making the Windows Phone OS defunct - as well as the Xbox One games console, "internet of things" kit and, potentially, smartwatches at a later stage.
There has even been talk of this being the "last version of Windows" assuming all goes well - so no pressure then.
Wait... what about Windows 9?
The best explanation Microsoft has given for jumping a number has been in the form of a very nerdy joke: "Windows 10 because seven, eight, [ate] nine."
The suspicion is the company's marketers just think it sounds cooler.
And, of course, there is the added benefit that it further distances the product from the ill-fated Windows 8 while catching up in numeric terms with Apple's rival Mac OS X.
So, what's new?
At first look, at least on a desktop PC, the user interface looks pretty similar to the popular Windows 7.
Microsoft is pitching the product as being "familiar and easy to use", as part of a shift away from the unpopular touch-centric focus of Windows 8.
Perhaps the headline feature is the return of the Start Menu, providing users with quick pop-up access to their favourite apps, documents and settings.
It does, however, carry over some of W8's design language.
http://www.bbc.co.uk/news/technology-33637586